Joined

Mar 23, 2011
Messages

29
Location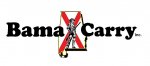 FOR IMMEDIATE RELEASE!!
Grassroots Gun Rights Activists Make it Official
TUSCALOOSA, Alabama (September 20, 2013) - Members of the newly-incorporated BamaCarry, Inc. are moving forward with a plan to unite Alabama's gun rights advocates under one banner. The group has now filed with the Internal Revenue Service for non-profit status, which will allow them to leverage the financial and numerical strength of the state's largest alliance of supporters of the right to keep and bear arms. The group has grown rapidly over the past year, touting over 3000 members on the group's Facebook page and online forum.
BamaCarry's stated goals include providing "advisory boards" for local activists seeking ways to promote gun rights, as well as creating a "war chest" to fight unjust laws through litigation. They also intend to continue their founding principle of educating the public. According to President Eddie Fulmer, "You'll get straight talk and facts with BamaCarry, along with the law to back it up."
Members of BamaCarry have already run in local elections, lobbied for legislation, and conducted classes on responsible ownership and carry of handguns. They maintain close ties to the Alabama legislature, and provided a voice for grassroots activists during the 2013 session of Congress.
Member dues are $20 and you can join/donate at bamacarry.org
Dues and donations can also be mailed to BamaCarry PO Box 424 Northport, Al 35473
Contact:
info@bamacarry.com
or
205-225-9226
Eddie Fulmer, President/Director