Joined

Jan 5, 2012
Messages

1,392
Location
Recently it has been said, and seconded, that "The republic has become an enemy of freedom." Reminds me of a Pogo Possum cartoon from 1951: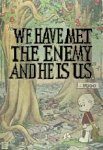 ​
WE are the "Republic"!
WE have
allowed
the government of the Republic to be co-opted by those we elected to represent our interests in Washington D.C. The head of our government does not act in the best interests of the citizens of the Republic, yet the Legislative and Judicial branches are reluctant (to the point of
inaction
) to say "
STOP!
We cannot permit your proposed action regarding ________." There are those who question the total absence of vetting the incumbent - birth and education records are questionable and protected. A voting record of 90% "Present" in the Senate; "Recess Appointments" when the Senate was
not
in recess; and the issuance of more Executive Orders than all previous presidents
COMBINED
(when Congress
does
vote contrary to his desires). The appointments of known Socialists, Marxists, and other assorted Communists - and nothing BUT - to his cabinet and adviser staff, Operation Fast & Furious. These facts were all known prior to the 2012 Presidential Election, and the Republic
ostensibly
re-elected him... so he could
continue
to mock our system of government. I say "ostensibly" because there are those who believe that our votes
only
count if they are cast for the "designated winner" as determined by the "King Makers/Shadow Government".
Our government is no more trustworthy today than it was when the Indian Treaties were broken! Who is to blame?
WE ARE..
.
not
some
faceless, nameless, phantom Republic
. Those who manipulate our elections are much more clever than the hoi polloi can discern. Pax...
Last edited: